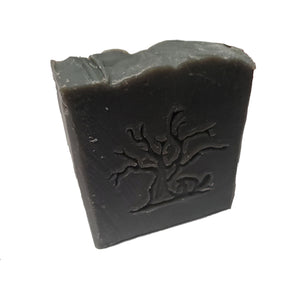 This handmade all natural cold-process soap is the best blend of plant oils to achieve ideal lather, foam, bubbles, cleanliness and moisture.  Essential oils are blended to achieve a complex and compelling aroma. 
Charcoal, Tea tree, Lemon and Rosemary all amazing at what they do!
Finely ground Oatmeal provides a mild daily exfoliating scrub to each bar.
Activated Charcoal derived from organic Coconut Shells

Tea Tree, Lemon and rosemary
contains NO Parabens, SLS, Synthetic fragrances or additives
gentle daily exfoliant
whole body use
Ingredients:  Oryza sativa (Ricebran) Oil, cocos nucifera (Coconut) Oil, elaeis guineensis (Palm) Oil, ricinus communis (Castor) seed oil, triticum aestivum (Wheat germ) oil, butyrospermum parkii (Shea Butter), avena sativa (Oatmeal), food grade activated charcoal, Melaleuca alternifolia (Tea Tree), Citrus limon (L) burm.f. (Lemon), Rosmarinus officinalis (Rosemary) essential oils.